HERE'S HOW OUR MEDICAL
BILLING SERVICE BENEFITS YOU
GET YOUR CLAIMS PAID FAST
THE FIRST TIME
Because most of our insurance claims are paid on first submission, you'll get the funds more quickly. Also, our medical billing service has markedly low rejections, so you'll have fewer unpaid insurance claims.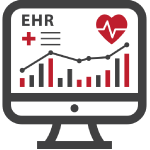 WEB-BASED
REAL-TIME ACCESS
Our medical billing service is web-based, so you have 24/7 access to your data. That means you can view the real-time status of every aspect of your medical billing and insurance claim cycle anytime, anywhere.
TOTAL TRANSPARENCY =
TOTAL CONTROL
With our medical billing service, you can access reports in real-time with the touch of a button. That gives you ultimate control, and the data you need to make the right decisions for your practice, when you want.